Some Blog Basics
Hey Y'all,
Hope everyone is having a great Thursday morning with some awesome weekend plans! I have softball divisionals so I'm hoping it's nice enough for sunscreen. Love the smell of my Austrailian Gold sunscreen.  Tropical Yum 🙂
So you are thinking about starting a blog or perhaps you have just launched one recently? If you are mulling it over please read 9 things I did before starting a blog. Just a quick read to help you make a decision. And my 4 myths about blogging helps people leap over some of the excuses I have heard as to why people can't do it.
*This post contains affiliate links. If you click and purchase I may make some commission and forever be grateful 🙂
I currently have 9 articles on blogging so I am not that far ahead of you. (Update: Cruising right along now and if you'd love step-by-step help starting your blog click here). Take the dive and follow along! I'd love to hear about and help you through your adventure. Trust me, if you have the passion and some motivation, you can do this!
The cost of starting a blog varies depending on what you are starting a blog for.
Why People Start Blogs
Some people are just looking for a creative outlet. If this is you, starting a blog can be almost zilch. The downside is that if you decide to turn your passion or creative outlet into an income later, the cost and time investment of switching everything over is ugly. Did I mention you may need a bottle of aspirin for this?
Tumblr, Squarespace, Blogspot, and Weebly are free platforms. WordPress.com is also free and the conversion to WordPress.Org for self-hosting won't be quite as painful as switching from one of the others. Of course, if you are a technical genius, it doesn't matter.
If the main goal of your blog is to ditch the 9-5 or 3-11 or any other garbage shift you may be working then I recommend WordPress.Org all the way (yes it's different than WordPress.com). There is a reason more than 93% of all bloggers reporting a revenue from their blog are users of WordPress.Org. The .org gives you the power to self-host and thus more power and freedom to use your site as you see fit.
The benefits of WordPress.org include thousands of free themes (layouts and designs) and plugins to choose from. (Plugins are nifty little extensions that make your site work more efficiently). They offer plenty of themes for purchase as well if you are looking for something specific. Many people start out with a free theme and then convert to a paid theme later. This is usually pretty painless as long as you do it before your site has massive amounts of content.
Maybe you're starting a blog to support an existing business. Again you will need self-hosting to control many aspects of your site and WordPress.org is the hands-down front-runner.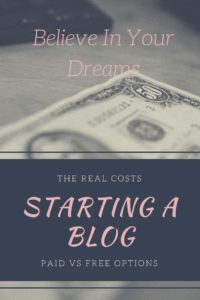 Wh

y You Should Not Blog
If you are in it only for the money, you'll likely be very disappointed.
Blogging for a living is like starting up any other business and there are costs and you have to work for clients/audience. This comes with a time investment. You wouldn't open a golf store if you don't play golf. So don't start a fitness blog if you hate exercise.
If you are passionate about something, the money will eventually follow, but no one wants to be stuck in any kind of business they do not like.
You are soooo busy and have no time.
Well, if you are hoping to make an income from blogging, you'd better quit a few hobbies or quit some of your other commitments because you will need at least an hour or two a day to make things happen. 3-5 is even more ideal. You can't really succeed trying to cram it all into one Sunday evening a week. Consumers want consistency and reliability.
Blogging requires you to have a passion or strong desire to write what you love or know. If you are blogging about the "in" thing in the hopes of making money, you won't last long. I know that billions of dollars are spent every year on weight loss products but I wouldn't blog about it because I would be bored in two weeks and would run out of things to say. I wouldn't blog about fashion because my taste is very limited haha.
While you can start a little vague, eventually you'll need to focus because you want to attract an engaged consumer base not just random people who are only interested in one thing you posted six months ago.
If you haven't started yet but have an idea about blogging try writing up several article ideas. Brain dump for a couple hours. Then spend a week or two writing 9-10 articles that are at least 900-1000 words in length. If this is extremely difficult or if you are irritated with the process, then you likely need to find a different niche.
Here is a full guide to helping you get a blog set up. The guide is free.
Blog Hosting
Let's say you've decided to start your blog. You Rock!
After you find your platform, hopefully, WordPress.Org, you'll need to find a web host to host the website for you. The platform is free but the hosting is not.
I researched this for months before starting my blog and read at least 30 lengthy articles that scrutinized and cheered for different hosts. I read some incredibly bogus claims and read complaints from the BBB to see which companies were really taking care of their customers.
Without hesitation I chose BlueHost. Thier attention to their customers and any arising issues is phenomenal. You can also stay with BlueHost for a long time, like until your site is super huge and by the time I reach that I anticipate their capabilities will be right up there with the way more expensive guy. Any and all technical issues I read about were alleviated and fixed within 12-15 hours.
I read too many complaints about SiteGround and HostGator, although some people are die-hard fans, they just didn't earn my trust. As in, imagine the web host freezing up for three days that just happen to coincide with your product launch. Yeah ouch. Potentially hundreds of sales, poof gone because your site was inaccessible.
BlueHost is super affordable. The link in my right sidebar offers the $3.95/month deal saving you roughly 40% off regular pricing. I locked in my rate by purchasing a three-year deal and paid up front. Now I don't have to worry about it for a long while. So my first investment was $143 for three years of web hosting.
The "List"
Okay, so you have your free platform and your affordable and reliable web host. Now once you get your site looking the way you want and publish a few articles, you are going to want to get your email list provider set up. The "list" is the emails you collect when people sign up for your newsletter or free opt-in offer. This list is your silver and gold treasure chest. These people are your future potential customers.
Again I did tons of research. MailChimp, Aweber, Sendlane, ConvertKit, and InfusionSoft are the major players that I investigated. Hint: do not go with a cheaper unheard of version, losing your list is the equivalent of losing your checkbook full of signed checks. A disaster!!!
After much searching, I opted to spend some money and go with ConvertKit. The features and ease of use were just too good to pass by. InfusionSoft is great for those people with massive followings (I'm talking 100,000 plus subscribers) but you need to be a tech guru to use it. Complicated stuff. MailChimp offers a free plan for up to 2000 subscribers. This is a good option if you are dirt broke but again you will have to pay later to move your list when you upgrade to ConvertKit which many people do. Mailchimps features are far more limited than ConvertKit.
ConvertKit cost me $29/mo and when I go over 1000 subscribers I will be paying $49 unless I can get in on a sale but at that point, I should be selling my own digital products and making more than enough to justify the expense. I mean, right now I am not selling anything and the $29/mo is worth it. I am not afraid to invest in my future. Second investment $29/mo for email services.
Blogging-Other Stuff
Basically, if you are looking to start an income revenue from your blog, you'll want about $300-350 set aside for the initial web host purchase and the monthly email provider. I strongly recommend that no matter what web host you decide to use, purchase the three-year option so you don't have to think about it again and you are committing to not giving up for a good chunk of time.
You can really sink yourself if you aren't careful. Too many people start buying paid ads from Facebook, paid advertising, or paid Pinterest promos. Be cautious. It's better to grow organic at your own pace than to be discouraged by spending too much too soon with little results.
You can splurge on paid themes and pricey plugins. You can hire design and logo artists. The costs can really start to pile on.
Boardbooster was one tool I really decided was worth the whopping $5/ mo. For what it does, this is a steal! You can have it repin up to 500 pins a month for you or create a "campaign" where you pick a pin or pins that you want randomly repined to certain boards. I saw my repin rate go up dramatically about three days after joining.
It Really is a Business
For some who just want to hobby blog about the family adventures or their latest craft ideas, there are free options available. But who knows, maybe 10,000 people want to read about your adventures and a little Amazon ad could fund your next one.
Some of you know you want to create a side income or a full-blown replacement for your day job. Blogging was not taken seriously for a very long time. In fact, many people will still scratch their heads when you say you earn money blogging.
If you are the person who knows they have what it takes, treat your blog like a fun business. Invest the little money it takes. Hey, I spent less than what most people spend on three months worth of a cell phone bill! And invest some time. You are doing this for you and your family. You are doing this to share a passion and knowledge for something you love. Maybe you are doing this to free you up from a horrible boss or work environment.  And hopefully, you are doing it to pursue your dreams.
xoxo– Deanna
Sign Me Up!
A positive, friendly place that will provide encouragement and support. Be a part of our crowd! Let's improve our luck, our love, and our lives.