The Versatile Blogger Award
So my amazing neighbor to the West, Alissa Ackerman was nominated for this versatile award last month and forwarded the honor in my direction along with fourteen other lucky ladies. I must say being nominated for any kind of an award before even hitting my first blog anniversary was a huge surprise!
Alissa's website, The Story Behind the Cloth, is a behind the scenes look at how fashion often tells a story. Many people use clothes to create a persona, character, or tell a story. It's always a form of self-expression. Afterall, we don't put it on if we don't feel good in it for some reason or another right? I applaud her for entering a very crowded niche and putting a unique spin on it.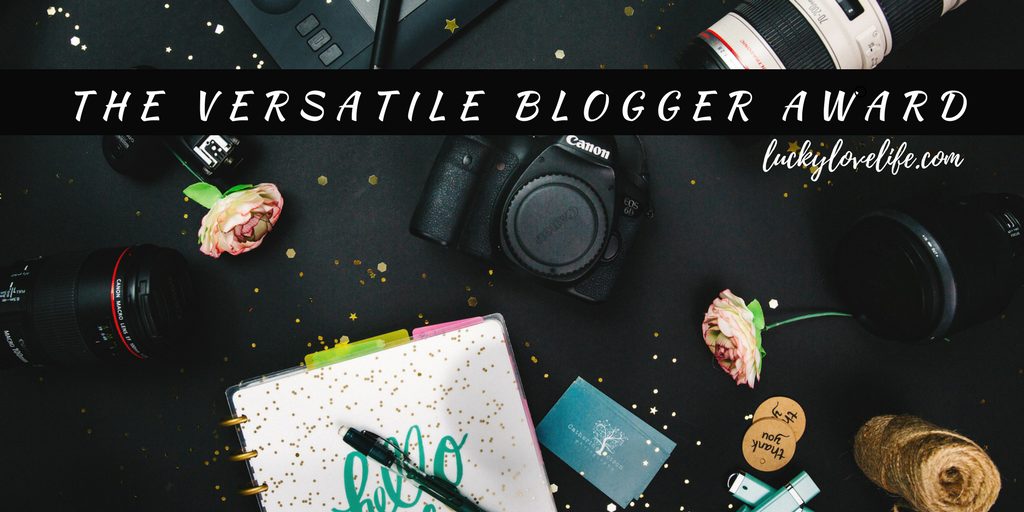 What is the Versatile Blogger Award?
Blogger awards are a sincere way for bloggers to show appreciation for other bloggers and their content. Blogging is so much more than just throwing up a post with a few shares on social. I think we all know the love, support, and understanding of what we do can be fairly limited outside the blogging community! I can't even count the number of friends who've told me I should be pursuing a "real" career. The Versatile Blogger Award celebrates high quality, unique, and loving content. When nominated, the blogger can choose to accept the nomination and pass it on to 15 bloggers that they believe deserve a nomination as well.
The rules to accept this award are simple:
Thank the person who nominated you, and link to their blog. There are tens of millions of blogs out there, and somebody chose yours!
Nominate 15 bloggers to keep spreading the appreciation.
Share 7 facts about yourself.
Thank you for being such a supportive community and sharing your wonderful selves with all of us.
Seven Facts About Deanna from LuckyLoveLife:
I love the game of football. A couple of years ago I could probably name more coaches, players, and refs than most men. I call plays from my couch and may even yell at refs for bad calls, especially this year! Go Seahawks!!!
I believe parenting is one of the greatest rewards of my life. That said sometimes I wish I could zap the oldest back to age 3.
My home will always be in the mountains. I love to travel but whenever I am somewhere flat, I start missing the huge mountains and forests. I live fairly close to Glacier National Park and nature is very much a part of my soul.
One of my biggest dreams is to build my own home. I have moved more than 45 times and look forward to the stability of a more permanent residence. Hopefully soon so I can fill it with good memories while my children are still home.
A bag of popcorn is a perfectly good substitute for dinner when I don't want to cook or I am still full from the giant breakfast I made (seriously, I can put down 1800 calories at bfast without flinching: Waffles, bowl of fruit, glass of chocolate milk and some scrambled eggs with cheese, YUM)
I used to workout upwards of five+ hours a day. I had an unhealthy obsession/relationship with exercise. But I have been much better since having my twins and now limit myself to about 30-40 mins a day.  Nor do I have any problems skipping days when life is busy!
I picked my blog name because it is easy to remember and kind of catchy. I realized that some people may think that it is about getting luckier in our love lives but I hope as I build community readers will easily understand that it is about luck, love, and life in general. Living our best life, creating our own luck, and making this life one we love a little more each day.
Nominations:
I'm following Alissa's lead in nominating some of my Twitter friends. I was not on any social media channel of any kind until I joined Twitter in June. I've been honestly blown away by the blogger support on there. I avoid the political rants and gossip (Like am I the only one who doesn't give two cents what the Kardashians are doing..zzz) But the genuine blogging support has been great. And I am surprised by the number of pageviews I generate from this platform. I'm really hoping for more commenting and community in the near future! So here's to fifteen wonderful and amazing bloggers or instagrammers who are supportive, sassy, and slaying it!
 

Krista Aoki

without whom I may have thrown in the towel. @Reroutelifestyle and KristaAokiblog.com 

  12.

Kelan & Brittany

who prove that togetherness can be a rewarding success

@thesavvycouple.com

      14.

Emily T

for giving us visual euphoria on a regular basis and always responding

@Emitoms
I look forward to reading your 7 facts and see who you nominate for some blogger support and recognition!
xoxo-Deanna
Sign Me Up!
A positive, friendly place that will provide encouragement and support. Be a part of our crowd! Let's improve our luck, our love, and our lives.